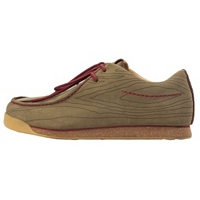 Category:
Athletic Inspired
Colors:
Olive Green, Dark Red, Light Brown

I'm extremely hard to please when it comes to shoes...
May 22nd, 2013
...but, these shoes are my new favorites. They run true to size and width. They are very springy, probably due to the gum sole, which I wasn't sure I would like. For looks, I love them--being a tree-lover and all--and the colors are earthy and attractive. They have a wide toe box that I need and have plenty of room to accommodate an extra arch support.