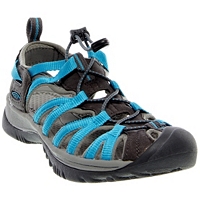 Colors:
Turquoise, Grey, Light Grey

These ARE as comfortable as they say!
May 22nd, 2013
I was looking for a pair of sandals to wear on our Disney trips. As you know, theme parks are nonstop walking and more walking. I wanted something that was comfortable, breathable, and waterproof. Many people recommended Keens. I tried them out by walking around the fair recently. Wow! They are comfortable right off the bat and require no break-in period. The straps and the footbed are both comfortable, and they are so lightweight. I love them and would definitely recommend them to others. Can't wait to get another pair in a different color! I'm not sure if they run a little small, but I found that when I went up 1/2 a size (from 7.5 to 8) they were more comfortable.