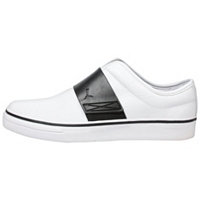 Category:
Athletic Inspired
Colors:
White, Black, Silver
Material:
Leather, Leather
Comfortable and Great Value
May 18th, 2013
These shoes fit true to size and have very good arch support. I am flat footed and they provide much more support than most shoes I've worn. Right out of the box they are quite comfortable and have a good amount of give. The one downside to them is that they stain easily and quickly, but I guess that's hardly shocking for a pair of white shoes.