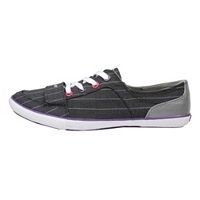 Category:
Athletic Inspired
Colors:
Grey, Silver, Purple
Material:
Canvas, Synthetic

Cute but runs at least 1/2 size small
May 18th, 2013
If you like Converse, but hate that each shoe weighs so much that it feels like it is pulling your foot down, you will love these shoes. They are lightweight canvas sneakers in cute patterns. The sides do sit fairly low on your foot, so if that bothers you, you may not like these. Also, I saw on other online shoe shopping sites that people said these sneakers run 1/2 to 1 whole size small, and I found that to be true. I usually wear a 5.5 or 6 (most size 6 shoes give me a little extra room), but my toes were pushing against the end of the size 6 in these sneakers. The size 6.5 is just a tad too long, but they will work fine.