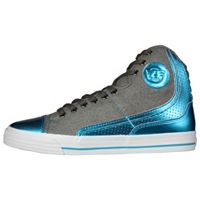 Colors:
Blue, Dark Grey, White
Material:
Textile, Synthetic

Great and COMFORTABLE shoe!!
May 24th, 2013
I bought my 2nd and 3rd pair of PF Fylers just 2 weeks ago. I love how they are not the kind of shoe you will see EVERYONE wear. They are EXTREMELY comfortable, but tight for about the first few times you wear them....I have no arch in my feet, so I'm used to shoes hurting, NOT THESE!!!