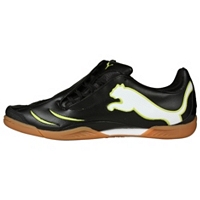 Colors:
Black, Lime Green, White
Nice but not the best
May 24th, 2013
I bought these because I was looking at the PWR-C cleats, but I didn't need new cleats really. I got the indoors, but I don't really like the way the top of the shoe looks. Instead of the narrow, sloping front of the cleats or turf shoes, with the Pwr-C panels, they have green lines to look like the real ones. The top of the shoe is flat, and I find that it looks too wide & flat for my taste. The shoe is comfortable and looks pretty good, but its not quite what I was expecting. The black & green is also hard to match with most clothes.