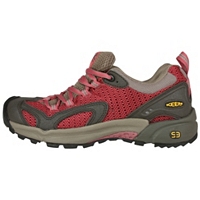 Colors:
Brown, Light Brown, Pink
Material:
Textile, Other Material

Love this shoe!
May 24th, 2013
I've worn this shoe to go for walks and at work in a busy PreOp/ Recovery room setting. It's great! I was ecstatic to find another one. Most other stores are out of stock except in the extreme end sizes, small or very large. I've been wearing a different brand at work this week and it just didn't have the support of the Keen Ridgeline. I injured one of my feet 30 years ago and if I don't have great support with some flexibility in the sole it aches after standing on it for 6 -8 hours. Keen Ridgeline is a great shoe that keeps my feet ache free. Must be why so many of the other RN's in Surgical Services wear Keen shoes!