About The North Face
---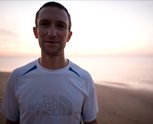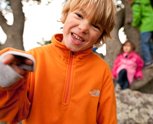 OVER 40 YEARS OF INNOVATION AND EXPLORATION --- We are named for the coldest, most unforgiving side of a mountain. We have helped explorers reach the most unfathomable heights of the Himalayas. But The North Face legend begins, ironically, on a beach. More precisely, San Francisco's North Beach neighborhood, at an altitude of only 150 feet above sea level. It was here in 1966 that two hiking enthusiasts resolved to follow their passions and founded a small mountaineering retail store.
The 1990s ushered in an era during which The North Face further broadened the outdoor world it helps athletes to explore. The decade saw our debut in the sportswear market with the launch of Tekware, an innovative collection designed to provide rock climbers, backpackers, hikers, trail runners, and outdoor enthusiasts with the ultimate fit and function. The North Face half dome logo began to appear with greater regularity on ultramarathon courses, high-country trails, and big walls. And, as the calendar clicked toward a new millennium, The North Face launched its own line of trekking and trail-running shoes to ultimately address the head-to-toe needs of those always striving for the next horizon.
Now, more than 40 years after its humble grand opening, The North Face delivers an extensive line of performance apparel, equipment, and footwear. We push the boundaries of innovation so that you can push the boundaries of exploration. We remain deeply proud to be the first choice of the world's most accomplished climbers, mountaineers, extreme skiers, snowboarders, endurance runners, and explorers.
There's little telling what the next 40 years hold for us. However, there is one bedrock certainty: The North Face will maintain an unwavering commitment to pushing the limits of design, so that you can push your limits outdoors. Never Stop Exploring.