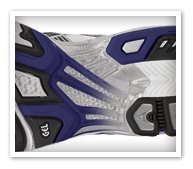 Structured Cushioning
Products in the Structured Cushioning segment are designed for runners who pronate slightly more than normal and generally have a normal arch. Their foot strike takes place in a neutral to slightly pronated position, using the body's natural pronation to attenuate shock. Structured Cushioning runners need their shoes to help control a small degree of overpronation, but they don't need all the shock attenuation attributes of a Cushion segment shoe.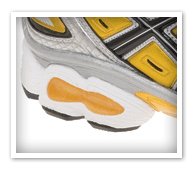 Cushioning
This segment is designed to meet the needs of under pronators to mild over pronators and tend to have a high arch. This type of runner needs a great deal of shock attenuation because they don't absorb shock naturally through pronation. Instead of the body's connective tissue absorbing shock through pronation, bones and joints take the brunt of the shock. Its vital that shoes in the Cushioning segment attenuate as much initial impact shock as possible. An additional note: runners wearing Cushioning shoes tend have a rigid forefoot, thus requiring that the shoe be very flexible there.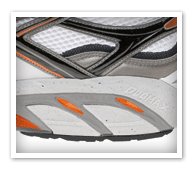 Maximum Support
The Maximum Support category is designed for runners who tend to land lean overtly pronated position with a flatfoot. Like the Cushion segment these runners are not using at their body's natural shock attenuation mechanisms. What makes them different is that these runners exhibit a large degree of pronafion beginning with landing in a pronated state, then continuing past normal. Like the Structured Cushion segment, these runners need help to control the degree of pronation.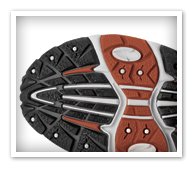 Trail
Designed to meet the needs of runners who prefer to take their run off- road. This category offers a range to suit most pronation ranges. Shoes may offer addtional features such as water resistant uppers and special tongue construction to help keep debris out.